GSD - "Q"
Kreycek V. D. Burg Austerlitz, "Q" 
 AKC High In Trial Obedience
AKC High In Trial Agility
 Yep, we just call him "Q". (Hey, it's an easy name to yell as you're racing through an agility course.) He had his NADAC Agility NAC, NAG, UACHX Agility Championship, and a Schutzhund BH (obedience/temperament) all before the age of three.
We are pictured here winning The German Shepard Dog Club of America National Specialty.  Check the Ribbon he was awarded!  I was so proud of him.  He's been a Competitive Trainer's dream come true.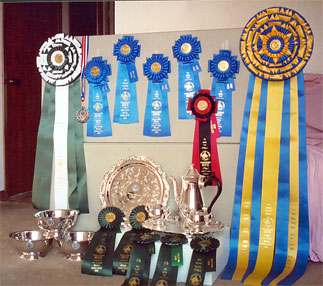 All this in just 4 days!!
AKC
NADAC
UKC
In UKC Competition he earned
8 perfect scor

es of 200, & 7 First Places

3 High in Trials and 2 High Combined Trial

CD (Companion Dog)

FFX-O Platinum - 3 scores of 195+ consequently

Ranked 1st Nationally GSD Obedience 
Ranked 5th U.S. Nationally All Breed Obedience
German Schutzhund BH, includes obedience, temperament, and simulation of a strange man attempting to attack me, using gun fire and whip.