Credentials
My 31 year Career 
TOP TEN National Level Rankings
(Some Ranking Stats From 1998 - 2015 NA  due to basement flooding, dang!)
AKC               AGILITY
1st Place        NA             Ibizan Hound   1st Ibizan to earn this     6/1999
1st Place        OA             Ibizan Hound   1st Ibizan to earn this     8/1999
2nd Place       NA             Ibizan Hound   1st Ibizan to earn this     5/2001
9th Place       NA             Dalmatian                                             1998
3rd Place       OA             Dalmatian                                             6/1999
High In Trial  &                German Shepherd National Specialty  10/18/2002
High In Show                  German Shepherd National Specialty   10/18/2002
2016                               #3 Saluki in the United States               12/2016
                                        invited to compete in December, in Orlando, FL
2017                               #4 Saluki in the United States               12/2017
                                       invited to compete in December, in Orlando, FL
AKC             OBEDIENCE
5th Place      CD             Borzoi                                            7/1999
9th Place      CD            Dalmatian                                       1997
10th Place    CD            Dalmatian                                       1998
  - -  - -                           Overall Top Ten Dalmatian             1998
1st Place CD                German Shepherd            10/18/2002
                                     his score beat 84 competitors
High In Trial                  German Shepherd           10/18/2002
High In Show                German Shepherd           10/18/2002
UKC            AGILITY
1st Place     AG- I         Ibizan Hound   1st Ibizan to earn this            

1st Place       AG-II           Ibizan Hound      1st Ibizan to earn this                 

High In Trial                  3 times     German Shepherd          

High Combined            2 times     German Shepherd           

UKC         OBEDIENCE
1st Place    CD              German Shepherd competing against GSDs        

5th Place    CD              German Shepherd competing against All Breeds  

Dog World Award       Ibizan Hound   1st Ibizan to earn this           8/19/1999
GERMAN SCHUTZHUND / IPO    
This is an extremely difficult test.
It's a pass or fail test, not just point deductions.
BH                   Ibizan Hound   1st Ibizan to earn this        11/3/2001
BH                  German Shepherd                                  11/3/2001
Most Titled Ibizan Hound, from numerous venues
CH Serandida's Elusive Sorocco, FCH, JS, CGC, TDI, AKC OA, UKC U-AG-II, IPO BH
                                                                                       7/2002
Tonja Osborn
Canine Training By Mystic Moon, Inc.
Personal       515/321-3634
Office           515/287-4809
31 Years Self Employed - Teacher, Trainer, Coach, Exhibitor, Competitor
Title Holder of Dog World Awards
Won the German Shepherd Dog National Speciality, High In Trial & High In Show
Numerous High in Trial and High in Show - AKC, UKC, NADAC, ASFA
Top Ten National Ranking - AKC, UKC, NADAC, ASFA
_____________________________________
Publication Referenced:
AKC stats
Front & Finish
Field Advisory News
UKC Bloodlines
Spotter Publication of  Dalmatian Club of America, Inc.
Deutscher Verband Der Gebrauchshundsportvereine
_____________________________________
Listed here are just a few of my favorite learning experiences;  and, most valued Instructors, and Coaches.
Ken Ramirez: Has been training a variety of animal species all over the world, for 40 years.  This Lecture included discussing the basics of operant conditioning, and the advanced topic, by reviewing the advantage and techniques of using non-food reinforcers.  Also, discussion on the strategies for handling animal mistakes in a positive way.  Primary reasons for training could be physical exercise, mental stimulation, cooperative behavior (teeth cleaning and brushing, trimming toenails, inspecting inside of the ears), and general animal welfare.  Secondary reasons for training an animal could be entertainment, sport, conservation, research and education.
Dr. Roger Abrantes, Ethology Institute Cambridge:   "We humans have never been able to contemplate a thing without changing it; and yet the most important must be to understand, accept and respect other living beings independently of their species and race." ~ Roger Abrantes in Evolution".
Dr. Abrantes has a PhD in Evolutionary Biology and an Ethology, DHC MAPBC. He has authored 17 books in numerous languages, and numerous articles on behavior. He is probably one of the most versatile ethologists in the world. He is especially known for his views on social behavior, and it's applications to the daily understanding of pet behavior. For his working methods he uses psychology rather than power, teaching the animal new patterns patiently and efficiently step by step.
"Q"   
GSD National Speciality
High in Trial Obedience & Agility
David Kroyer, Canine Training Systems: Training Through Pictures with Dave Kroyer
2014 Hermes Creative Gold Award

2014 35th Annual People's Choice Bronze Telly Award

2014 DV Award Finalist

 
Ivan Balabanov: Competed in the USA National Schutzhund Champion, Vice Champion at the Belgian Shepherd Championships, and he competed on 7 Schutzhund World Teams. Ivan has demonstrated his dog training system at dozens of national seminars and on his videos, including "Obedience Without Conflict".
Yes, that is me, with a real live full blooded wolf!  His eyes mesmerized me! I felt like a deer looking into headlights, I honestly could not look away.  Wolf Park was an amazing opportunity to study the root body language of canines, in a variety of social situations.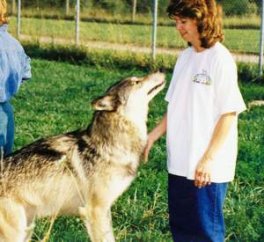 At Canine Training by Mystic Moon, Inc. we believe in continued education outside the Midwest. Why outside the Midwest?  Because "training techniques" differ greatly around the world, and become regional. Most trainers in a region usually have similar techniques, because they have learned from each other; and, see each other's techniques at local events.
Dr. Erich Klinghammer: Director of Wolf Park, Institute of Ethology, which is dedicated to the conservation, research, and education in the Biology of Behavior and Ecology of Animal. My stay at Wolf Park was a wonderful experience -- co-habiting with a pack of wolves, therefore learning by sight, sound and touch (at a very accelerated rate!).
Chuck Tompkins: Vice President Curator for the largest marine park in the world. He has trained over 100 different species.
Association of Pet Dog Trainers: Conducts dozens of Conferences, Seminars, and Workshops annually. APDT is a professional organization of individual dog trainers who are committed to being better trainers through education.